Peter: ''Eclipse will show us a new side of Carlisle!''
Peter Facinelli mer känd som Dr Carlisle Cullen har berättat att Eclipse kommer visa oss en helt ny sida av Carlisle som vi inte fått sett innan. Vi som läst böckerna vet ju självklart vad som händer men jag syftar på prestationen från Peter Facinelli även och även att få se det framför sig på en bioduk. Oavsett, han fortsätter berätta hur vi kommer få se en helt ny sida av Carlisle och hela Cullen familjens styrkor kommer att visas upp som de gömt under all denna tiden. Han berättar att han även är exalterad inför finalscenen - the battle scene där han får visa lite snygga moves! 
Källa: Twilightmovie
---
Peter på covern av Prestige!
---
Peter Facinelli om Robert Pattinson!
Peter Facinelli chattade med fans på en livechatt nyligen och detta var vad som sades om Rob: 
Om du kunde vara vilken annan karaktär i sagan (the twilight saga) du ville, vilken skulle du då vara och varför?
Peter Facinelli: Edward, av en mängd anledningar, om jag var yngre vore det en grym karaktär att spela. Om jag inte kan spela Edward är jag ganska nöjd med att spela pappan. Jag tror inte att "äpplet faller långt från trädet".
Team Taylor eller Robert?

Peter Facinelli: Haha! Jag måste välja team Robert. Han är min familj. Jag älskar Taylor men Rob spelar min son så jag måste hålla mig till familjen. Men jag tycker att de båda är obeskrivligt begåvade och jag stöttar båda två.
---
Intervju med Peter Facinelli
Question: Does Carlisle have a lot to do in Eclipse?
PETER FACINELLI: Yes, he does a lot. A lot more than the first two films, for sure. You know, what I like about the third movie is that you get to see a side of Carlisle you haven't seen before. You actually get to see what his vampire capabilities are because there's some great battle sequences. It's my favorite book.
When do you hear about Breaking Dawn?
FACINELLI: I don't know. Usually the fans know before I do, so I'm sure I'll see it on the internet before I get the phone call.
Is Twitter part of your job now?
FACINELLI: No, I just enjoy what Twitter is because I can really connect with the fans. It's a great way to share information with them and it's also a great way to entertain. I like being able to put a smile on people's faces and I like being able to also mix that up with sharing information with them that's important, and also letting them know what I'm doing. I've had people come to me and say, "Hey, will you tweet this out?" There's like pay advertisement stuff. I'm not into that. I like to keep my Twitter pure. I don't want to sell my followers anything. I want to be able to have that fan base so I can tell them what I'm doing and entertain them.
How do Twilight fans relate to you?
FACINELLI: What's great is that, because I look so different from Carlisle, they've gotten to know me in a different way than Carlisle is. I've had this fan base go and look at some of the other work I've done and see how vastly different that work is. It's fun for me that I don't look like Carlisle and I'm not anything like him, so when people do meet me, they're not confusing me at all with Carlisle.
Did you ever think these Twilight films would do so much for your career?
FACINELLI: No. The fan base has been so phenomenal. When you go to an event and people have flown in from other countries just to take a picture with you, that's a loyal fan base that you can't even imagine having. I'm thankful for all of them and that's why I try to connect with them, in some way.
Are you wearing a wig in the films now?
FACINELLI: Yes, for the third movie, because I was doing both projects at the same time, I wore a wig. There were days where I was literally running for hours in the forest and then I'd jump on a plane and be on the "Nurse Jackie" set. I was going from Vancouver to New York, every three days.
Was it hard to switch gears?
FACINELLI: No, for me, it was really invigorating. I did a scene where I was crying with Akalitus (Anna Deavere Smith) that came out of me just being emotionally exhausted. It wasn't written that I was crying and, all of a sudden, in the middle of the scene, I broke down and started crying. It felt right for the scene. I did takes that I wasn't crying in, but they felt like, because I was just dumped by Jackie and there was all this heavy emotions going on, it really worked for the scene. I think it was just me getting off an airplane, having three hours of sleep and just being that vulnerable. It hit me that hard. But, I enjoyed doing both projects, at the same time.
What kind of doctor is Carlisle?
FACINELLI: Carlisle is the head of the hospital in Forks.
Is he good?
FACINELLI: He's great. Carlisle, because he's been around for so long, is very well educated. What I love about him is that he has a real love for humanity. People always ask me what kind of research I did to play a vampire. I say, "I did very little to play a vampire because I'm playing a vampire who's trying to be human." My research was more about what it is to be human and why he loved humanity so much that made him want to hold onto that. When you look at something like Twilight, the good vampires aren't necessarily good. They're just eccentric. The bad vampires are just doing what they're born to do and made to do. It's like domesticating a lion. For me, Carlisle doesn't want to be a vampire, so he's just really holding onto that humanity.
källa: thetwilightsaga
---
Intervju med Peter
BuzzSugar.com har en ny intervju med Eclipse Vampire Peter Facinelli (alias Carlisle Cullen, eller Daddy C) under vinter TCA i Pasadena CA. 

I intervjun Peter talar om Eclipse, syster Jackie och naturligtvis hans favorit sak - Twitter -

* När vi kan förvänta oss några nyheter om Breaking Dawn: Jag vet inte.
Oftast fans vet saker innan jag gör. 

* Varför han älskar Twitter: Jag njuter av det Twitter är att jag verkligen kan ta kontakt med fansen.
Det är ett bra sätt att dela information med fansen.
Och det är ett bra sätt att underhålla.
Jag gillar att kunna sätta ett leende i människors ansikten, och jag gillar att kunna blanda upp det med att dela information med dem som är viktigt, och även låta dem veta vad jag gör.
Jag har haft folk kommit till mig och säga "Hej du tweet det här?", Men jag är inte på det.
Jag vill hålla min Twitter ren.
Jag tänker inte sälja min följeslagare någonting.
Jag vill bara ha det fans så jag kan berätta för dem vad jag gör och underhålla dem. 

* På vilken Twilight har gjort för sin karriär: The fans är just phenomenal.
När du går platser och du ser folk som flög in från andra länder bara att ta en bild med dig, det är en trogen fanskara som du inte ens kan föreställa sig har.
Jag är tacksam för dem alla, och det är därför jag försöker ge tillbaka och ta kontakt med dem alla på något sätt. 

* På byta växlar mellan Sjuksköterska Jackie och Twilight: För mig var det verkligen uppfriskande.
Du vet i de första avsnitten av Nurse Jackie finns en scen där jag gråter.
Som kom ur mig bara vara känslomässigt utmattad.
Den skrevs inte att jag grät, men helt plötsligt i mitten av scenen jag bröt ihop och började gråta.
Och det kändes helt rätt för scenen.
Jag gjorde om scenen så jag grät, men vi kändes eftersom det var så många tunga känslor på gång att det verkligen arbetat för scenen.
Det var bara jag får ut ett flygplan, med tre timmars sömn, och bara vara att sårbara att det slog mig så hårt.
Jag njöt verkligen göra båda projekten samtidigt. 


# Å göra Eclipse: Vad jag gillar med den tredje filmen är att man får se en sida av Carlisle du inte har sett förut, och vad hans vampyr funktioner egentligen är.
Det finns några riktigt stora slaget sekvenser.
Det är min favoritbok. 

# På skillnaden mellan Coops Twitter-konto och hans egen: "Han inte har nästan lika många människor följde honom [som jag gör]. 

# Är Carlisle verkligen en bra läkare?: Oh he's great!
Eftersom Carlisle har funnits så länge, jag tror att han är mycket välutbildad och vad jag älskar honom är att han har en verklig kärlek till mänskligheten.
Folk frågar mig alltid vilken typ av forskning har du gjort för att spela en vampyr.
Jag säger att jag gör väldigt lite för att spela en vampyr, eftersom jag spelar en vampyr som försöker att vara människa.
Min forskning är mer vad är det att vara människa.
Varför gör han älskar mänskligheten så mycket, att han ville hålla fast vid det.
När man tittar på något som Twilight, det goda vampyrer är inte nödvändigtvis bra, de är bara excentrisk.
Den dåliga vampyrer är bara gör vad de är födda att göra och gjorde att göra.
Det är ungefär som domesticating ett lejon.
För mig är Carlisle hålla bara på att mänskligheten.
Han vill inte vara en vampyr. 

# Den som deltar i båda projekten: Jag har haft en mycket galen schema.
Det var en hel månad när jag sköt Eclipse och Nurse Jackie samtidigt men det är uppfriskande.
Så fort jag kommer på som jag har så mycket energi.
Det var verkligen kul att göra dessa kontrasterande roller eftersom Carlisle är en sådan lugnande kraft och en sådan sten och grund för den här familjen, och Coop är inget av detta - han springer omkring som han hade fyra burkar Red Bull.
---
Ska Rob börja Twittra?
Woooow! Vilken dröm att få läsa Robs Twitter va?
Jag hoppas verkligen att Peter är en bra övertalare :)
---
The Facinelli Five's Merry Morning!
Peter Facinelli, hans fru Jennie Garth och deras barn Luca Bella, 12, Lola Ray, 7 och Fiona Eve, 3 berättar om deras jul och har tagit några vackra julbilder för People!
Lately quality time for the Facinelli Five has been fleeting: The New Moon actor spent this past fall shuttling between the Vancouver set of The Twilight Saga: Eclipse — the third chapter of the wildly popular vampire series, due out next summer — and New York City, where he films his hit TV dramaNurse Jackie opposite Edie Falco.
"I want to make sure I'm there with my kids," says Peter. "They grow up quickly, and I want them to really experience each holiday. So we make sure every one of them is filled with joy and love."
Klicka
här
för att läsa mer.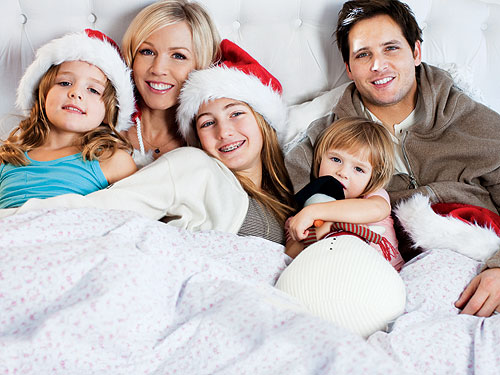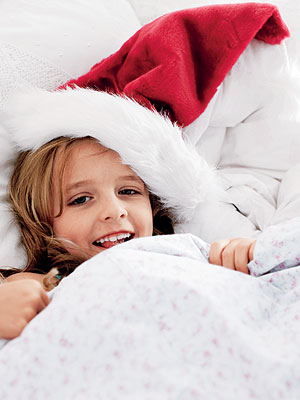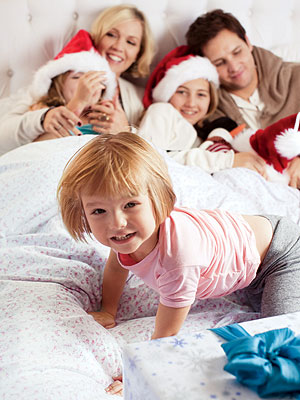 ---
Peter & hans familj
Aw, vilken fin bild på Peter Facinelli och hans familj!
---